Melbourne Chilli Eating Championship is Australia's longest running premier annual competitive eating competition.
Held annually at The B.East 80 Lygon St Brunswick East since 2016
---
Chilli Eating Champions
2016 - Mina Luna
2017 - Mina Luna
2018 - Harry
2019 - Nat Ramley
2020 - Steve Batancs
2021 - Greg Barlow
2022 - Greg Barlow
2023 - Gabby Del Castillo
---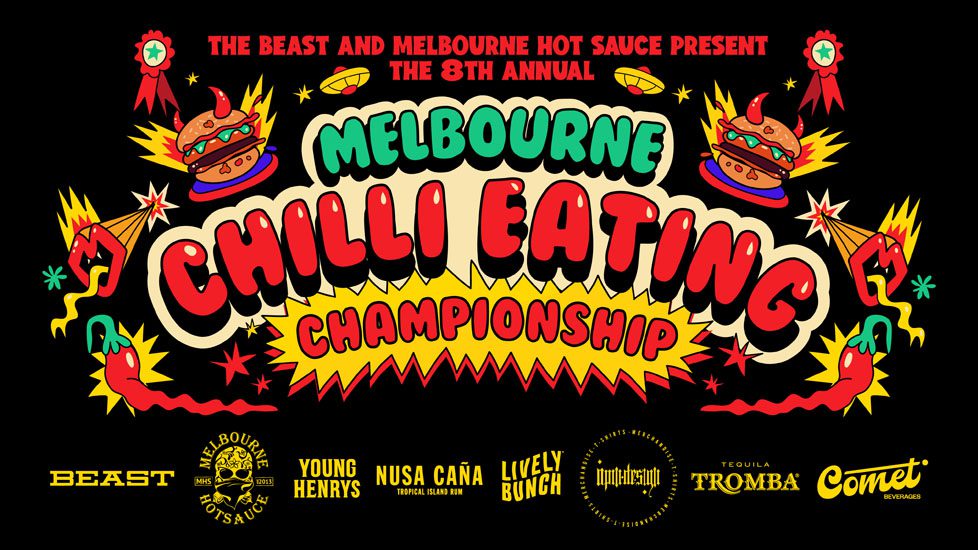 ---
-HOW MUCH HEAT CAN YOU HANDLE? B.EAST & MHS SPECIAL CHILLI MENU FROM 12PM
12pm - Doors open
2pm - Heat 1
3pm - Heat 2
5pm - FINAL KO ROUND
7pm - Onwards - DJ's, Good Vibes & Bands
All media & general enquiries
chillieatingchamps@gmail.com
WHAT IS INVOLVED IN THE CHAMPIONSHIP ROUNDS?
Kicking off 2 x 12 Rounds from 2pm in a KO event.
-The top 2 competitors from each round will progress to a final KO round.
-Rounds will start off easy and getting progressively hotter.
-Rounds will vary from fresh pods to chilli spiked foods & drink, starting with Jalapeños, and progressing to Carolina Reapers and beyond!!!
- If competitor is vegan/vegetarian/has any allergies whatsoever, they must stipulate upon application to the competition and we can accommodate you.
24 competitor spots available.
x2 heats.
x1 Final round.
RULES
-Disqualification is by way off knock out, tap out, pass out or spew out!
-Competitors will be given NO napkins.
-A pint of beer and a glass of milk to taunt you into tapping out.
You will be given a spew bucket.
FIRST PRIZE
- $600 cold hard cash
- 1 Bottle Ltd edition Melbourne Chilli Championship hot sauce
- 1 Slab of beer
- 12 Pack hot Sauce from Melbourne Hot Sauce
- Melbourne Chilli Eating Championship t-shirt
MCEC hamper from Melbourne Hot Sauce, Beast, Young Henry's & Nusa Cana
SECOND PRIZE
- $150 cold hard cash
- 1 bottle Ltd edition MCEC hot sauce
- 6 pack of hot sauce from Melbourne Hot Sauce
- Melbourne Chilli Eating Championship t-shirt
MCEC hamper from Melbourne Hot Sauce, Beast, Young Henrys & Nusa Cana
THIRD PRIZE
- 1 bottle LTD edition MCEC Hot Sauce
- Melbourne Chilli Eating Championship t-shirt
- MCEC hamper from Melbourne Hot Sauce, Beast, Young Henrys & Nusa Cana