Description
Barrel Aged Hot Sauce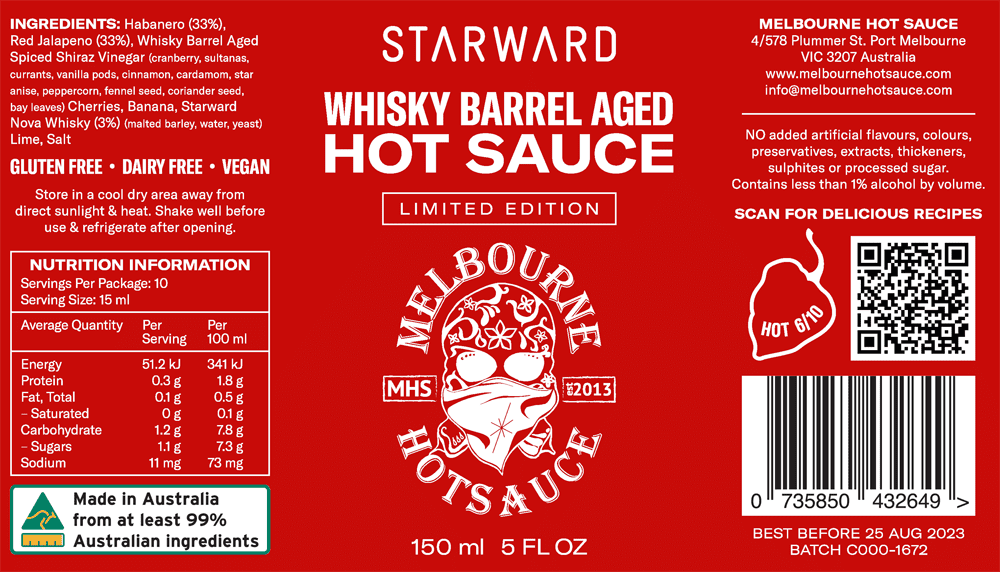 Provenance of Ingredients
Red Jalapeno: Swan Hill, Victoria
Habanero: Bundaberg, Queensland
Shiraz Vinegar: Stanthorpe, Queensland
Cherries: Tamar Valley, Tasmania
Banana: East Palmeston, Queensland
Nova Whisky: Port Melbourne, Victoria
Lime: Bundaberg, Queensland
Salt: Eyre Peninsula South Australia
Vegan friendly. Dairy free. Gluten free. No added refined sugar.
Contains less than 1% alcohol by volume
We use natural unfiltered and unpasteurised Shiraz Vinegar containing the mother (live cultures). No added sulphites.

Below is a basic guideline on how to understand food labels. All food products in Australia are governed by Food Standards Australia New Zealand
For a more comprehensive explanation of all food related information please check FSANZ website.
This 2021 Ltd edition release is packed full of Habanero & Red Jalapeno aged in Starward Nova single malt ex red wine Whisky barrels. The natural flavours of this award winning Whisky have been complemented & accentuated with the addition of cherries, bananas, limes & rounded off with our own custom spiced Shiraz vinegar. The end result is a full bodied & perfectly balanced unique collaboration from Melbourne's favourite Whisky & Hot Sauce producers.
MELBOURNE CRAFT. MELBOURNE CULTURE
Based in Port Melbourne just down the road from Melbourne Hot Sauce, Starward craft whisky for the bold, creative and irrepressibly curious food lovers out there and take much of their inspiration from Melbourne's eclectic and diverse food and drink culture.
This limited edition release sauce is jammed full with a Habanero & Jalapeno mash aged at Starward's Port Melbourne distillery in barrels that previously held their signature Nova Single Malt. We then produced & barrel aged our own custom spiced Shiraz Vinegar packed full of Cranberry, Currants, Sultana, Cardamom, Star Anise, Fennel Seed, Vanilla Pods, Coriander Seed, Bay Leaves, Cinnamon & Peppercorn to accentuate the natural Nova Whisky flavour profile.  Fresh cherries, banana, limes & more whisky were added to the mix to shine a spotlight on the fruity and tropical characters found in Starward's red wine barrel aged whiskies. Smash it on your favourite meals & cocktails!!
Click the pic below for some exclusive Starward cocktail inspirations

Decadently fruity, full of flavour.
Gold medal winner at San Francisco World Spirits Awards 2020 // 92 points from Wine Enthusiast 2019.
A fruity, double distilled single malt made with Australian barley and craft brewers' yeast for extra flavour.
Lightly charred or steamed barrels sourced from Australian wineries making great shiraz, cabernets and pinot noirs. Often filled fresh when the barrel is still wet with wine. Matured in Melbourne's wildly varied climate for three years.
Exceptional length thanks to the red wine barrels. Bright aromatic notes of red berries, orchard fruits, vanilla, caramel and soft oak spice.
Smooth and complex when sipped neat. Shines in classic cocktails. Works exceptionally well with food.
Find out more about Nova single malt here