Description
 Habanero Roja 
1st place 2019 International Scovie Awards
Gold medal 2017 Australian Food Awards
Silver medal 2018 Australian Food Awards
Bronze Medal 2019 Australian Food Awards
1st place 2018 Australia & NZ Mr Chilli Awards
1st place 2017 Australia & NZ Mr Chilli Awards
2nd place 2016 Australia & NZ Mr Chilli Awards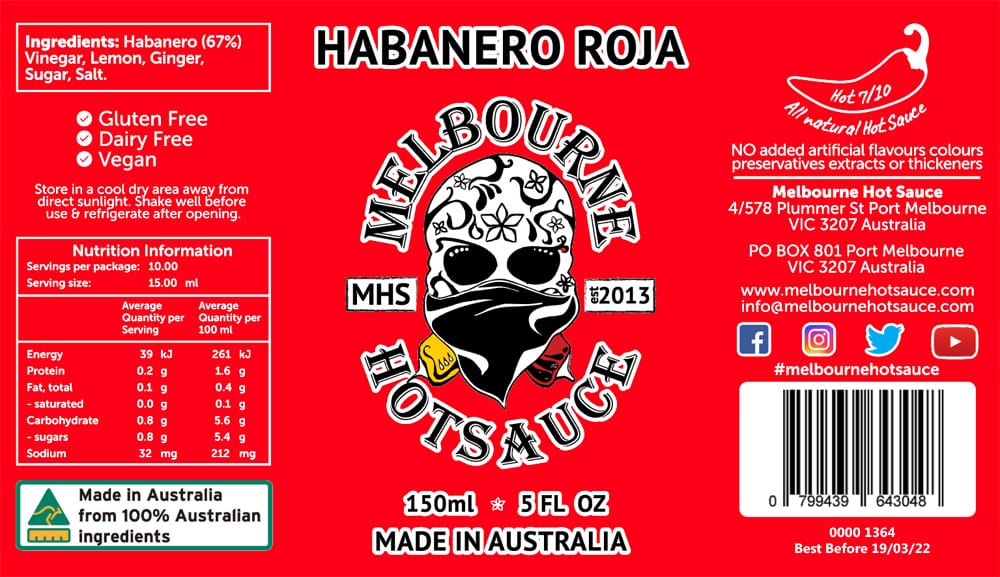 Provenance of Ingredients
Habanero: Bundaberg, Queensland
White Vinegar: Heathwood, Queensland
Lemon: Mildura, Victoria
Ginger: Sunshine Coast, Queensland
Sugar: Bundaberg, Queensland
Salt: Eyre Peninsula, South Australia

Gluten free
Dairy free
Low Fat content
Below is a basic guideline on how to understand food labels. All food products in Australia are governed by Food Standards Australia New Zealand
For a more comprehensive explanation of all food related information please check FSANZ website.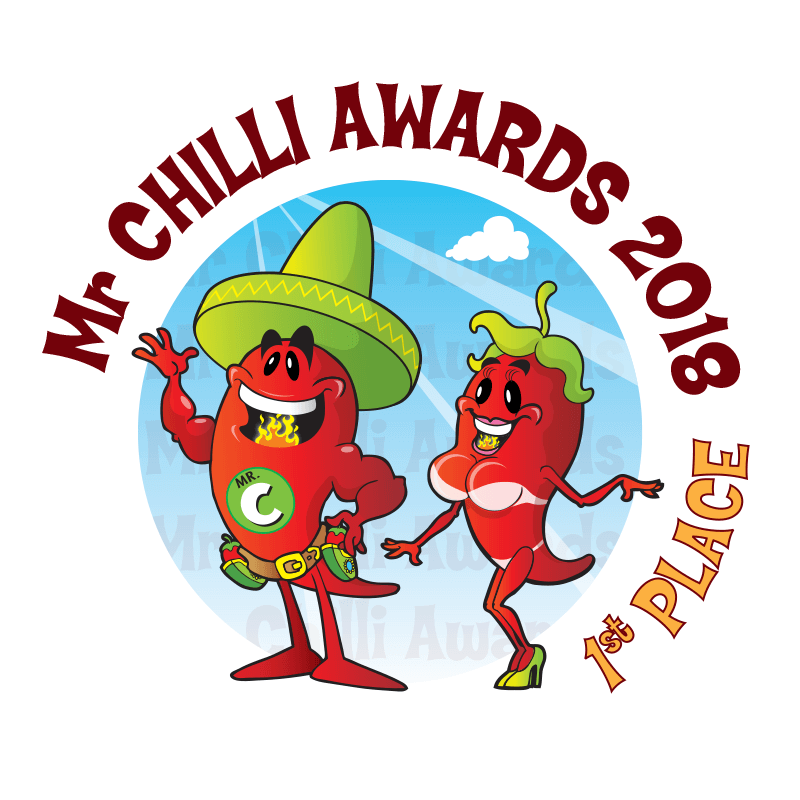 At one point, the habanero held the crown as the hottest hot pepper in the world, but don't let the fact that certain peppers have passed it by fool you into underestimating it. This is a seriously hot pepper. And unlike many of the hotter peppers, it has a unique, citrus-like taste with strong mango, orange & coconut notes, that makes it very popular in hot sauces. Habanero can rate anywhere from 100,000 to 350,00 SHU depending on growing conditions.
 Habanero Roja 150ml hot heat level 7/10
Ingredients: Habanero, Ginger, Lemon juice, Vinegar, Salt, Sugar
Heat with flavour! This is our most popular hotter variety of sauce and a great addition to any food that needs that extra kick. Especially good on eggs and in a Bloody Mary for breakfast. Simple,clean & pronounced flavours allow you to fully experience all the elements of this Louisiana inspired hot sauce.
Gluten & dairy free. Vegan friendly.
Hand crafted small batch hot sauce made in Port Melbourne, Australia
Made using high quality natural ingredients with no added artificial colours, preservatives, sulphites, extracts or thickeners
Click here for video review