Description
Spicy Sanchez 150ml xxx-hot heat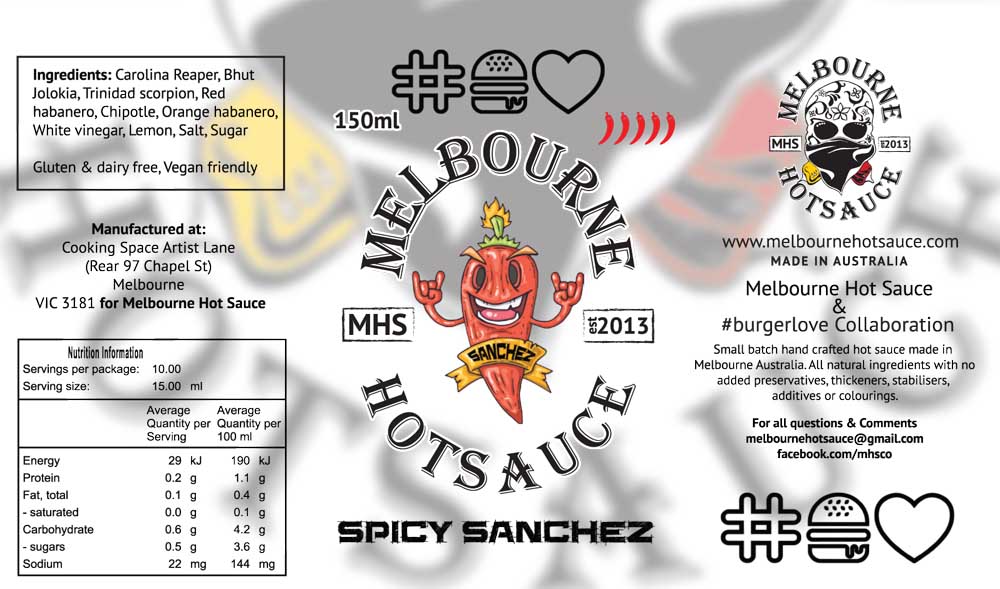 Ingrdients: Carolina Reaper, Trinidad Scorpion, Bhut Jolokia, Red Habanero, Orange Habanero, Chipotle, White Vinegar, Lemon, Salt, Sugar
MHS x #Burgerlove Ltd edition collaboration hot sauce.
Try it with your favourite #Burgerlove creation.
#Burgerlove South Melbourne  (2 George St, South Melbourne)
#Burgerlove St Kilda  (11a 60 Fitzroy St, St Kilda)
#Burgerlove Prahran  (coming soon..)
Featuring a mouth blistering mix of some of the worlds hottest chilli, this bad boy is not to be taken lightly!! Made with 100% all natural Australian ingredients.
Gluten & dairy free. Vegan friendly.
Hand crafted small batch hot sauce made with all natural ingredients in Melbourne, Australia
We only use high quality natural ingredients with no added preservatives, additives, fillers, extracts or thickeners.
Click here for video review